Feels Like Family
Feels Like Family
[to Barack Obama in a mock interview, 2014]
"What is it like to be the last black president?"
-Zach Galifianakis
North Carolina feels like home anytime I visit. Next to Antigua, Philadelphia and now Los Angeles, it's one of the places that have had a profound influence on my life. The friends I have there are amazingly special and I don't even think of them as friends anymore, to be honest. They are family.
Thank you.
North Carolina must've known I was coming because this was on the welcome mat.
Don't ask me how I knew I could snap a video of the lightning. It's something I learned back in the Caribbean when I was a wee, young lad. Basically, you can tell how far away a storm is by counting the time in between thunder claps. I just figured since I saw lightning once, she would show up again and she did. She showed up a few times.
North Carolina did not disappoint. First, I spent some time in Charlotte with my buddy LaShawnta. We caught up on the last 5 years that we hadn't seen each other and indulged in some Mexican food, Reggae music, dancing and drinks in downtown Charlotte. It was great to see Shawn again. I was happy to learn that her and her son were doing well. Being a single parent is hard work. Respect.
The next city I visited was Durham. This is where I worked for IBM for 3 summers and then a year after college. This is where I had my first pregnancy scare (turns out she was lying but still…). This is where I started reading Terry McMillan books to learn more about women. Hahahahaha!! Ahh, the things we did when we were young.
Great memories indeed.
I caught up with a great friend of mine, Tangie. We were super cool when I lived in North Carolina hadn't seen each other in AGES. Seeing her made a brother feel good. It had been so long. She had a husband and two beautiful kids. Seems like everyone had kids. I think if I stayed in North Carolina, I would've had a couple myself. Perhaps I dodged a bullet there. Perhaps not.
Later on, I also caught up with my boy Phil and his wife, Yolanda. My "other mom and dad". Their kids were freaking grown and talented. I hadn't seen them in a few years. So beautiful. I was proud. Phil was my friend and mentor while I interned at IBM for 3 straight summers. I rented a room in his house and over those years of working at IBM, we developed a great friendship that saw us clubbing together, competing on the basketball court and of course, talking trash whenever the day called for it.
Finally, I caught up with my boy Sam. I briefly stayed with Sam while I worked at IBM as well and we've been friends ever since.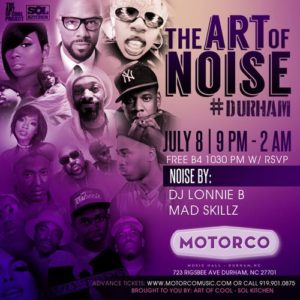 Sam and I ended up going out to downtown Durham on a rainy night to party, hollered at some beautiful ladies and danced to some old school hip hop. Just like the old days. Salute!
Sam brought me up to speed on the "gentrification" of downtown Durham and even mentioned the word, hippies. I cringed. I never thought I would associate hippies or gentrification with Durham, North Carolina. This shit was real. When I think of Durham, I think of Northgate mall, the bad road that leads up to that one triflin' ass (but funtastic) strip club and IBM. Now that's a great neighborhood!
Huge thanks and nothing but love to my buddies in North Carolina. It's good to know I always have family there.