HAWAII: WELCOME TO THE ALOHA STATE
"I enjoy privacy. I think it's nice to have a little mystery. I think because of technology a lot of the mystery is gone in life, and I'd like to preserve some of that."
-Maggie Q


WELCOME TO HAWAII: THE ALOHA STATE
Aloha! ?
I've been living in Los Angeles for 17 years. I had never been to Hawaii. The thought of the 5 and a half hour flight always deterred me from traveling there, even after hearing the amazing stories about the Hawaiian islands.
The flight time was honestly such a poor excuse because I've been to Paris, France 3 times. LAX to Paris is 10.5 hours nonstop. 11.5 hours on the way back! Tsk Tsk Steve.
Well … I finally stopped making excuses, booked a short little trip to Maui for a few days and I have to admit, not only did I enjoy myself but I wanted to stay on the island indefinitely.
Maui, part of the Hawaiian archipelago in the Central Pacific, is simply: MAGICAL. It's the Disneyland of island paradises … without the creepy characters following you around all day. And yes, everything is expensive as well, just like Disneyland.
Trust me, coming from a man who was born on one island in the Caribbean (Dominica) and grew up on another island (Antigua), I know what island magic feels like.
The Delta flight time of 5 hours didn't even feel that bad. And the TV's in the back of the headrests helped a lot. I watched some TV shows, a movie (Live by Night — a Ben Affleck film) and found some time to knock out a couple well-needed naps.
Upon landing, I picked up my rental car from Thrifty, who I give props to for an effortless process and took my butt to Ka'anapali Beach Hotel, where I was staying for 3.5 days.
Quick observation about the Kahului airport: Why are there so many damn Starbucks?! I counted 4 from the moment I left the plane until I got to Baggage Claim. People are seriously addicted to this coffee thing. Yuck.
Anyhoo…
My stay on the island of Maui was filled with clarity, fun, magic, sunrises, sunsets, cocktails, golfing, BBQ and a new set of cool ass friends.
Clarity stands out among all the items I mentioned above because I honestly never thought about work. I tried. I really did. There were a few times when I tried to review certain work-related tasks in my head and I swear the island wouldn't let me.
Mahalo.
I guess you can say that's where the magic came in to play because Maui basically blocked any kind of negative energy I tried to bring on the island. She kept me on the path of happiness and paved my sunny days with ultimate relaxation, freedom and a clear, spotless mind.
Mahalo.
During my trip, a series of events randomly started at the Tiki Cocktail bar at my hotel on Friday night and led me to making 4 new amazing friends who I ended up drinking with, dancing with, BBQ'ing with, laughing with and philosophizing with all weekend long.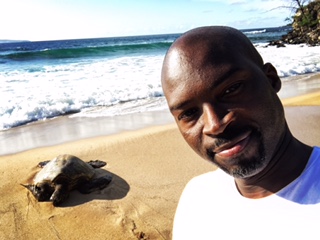 I still can't believe how open, inviting and friendly the locals were to me. It was quite the contrast from the big city life where one road rage incident can ruin your entire day. And to make things even cooler, I took a selfie with a turtle for goodness sakes! A freaking turtle! Come on son. That's ethereal.
Mahalo.
S/O to Kuvi, Jordan, Sarah (kickass bartender) and Elisa for making my trip even better than I ever imagined.
49 states down. 1 to go!
Some quick Maui travel tips:
Rent a car

Go out and meet the locals

Go cliff diving if you don't mind swimming

Ka'anapali (Royal) Golf Course is a fun course — when you get to the top parts of the course, take a minute and enjoy the views

If you can wake yourself up early every morning, take a nice stroll along the beach

Enjoy the sunsets
The final state in the #WhereIsSteve travel trilogy will be Alaska. Maybe it was also fitting (or magical) that I met a young lady who had moved to Maui from Alaska as well on my trip. She was a friend of some of the locals I met at the Tiki Bar.
I shared my 48-state road trip journey from last year with her and she was impressed. I also told her about Hawaii being my 49th state and hopefully, Alaska will be my 50th state this coming July. She provided me a lot of helpful information on where I can go and what I can do once I get to Alaska.
Maui, you have a new fan!
Mahalo. ?
MAUI PHOTO GALLERY
WELCOME TO MAUI VIDEO