ALASKA: WELCOME TO THE LAST FRONTIER
ALASKA: WELCOME TO THE LAST FRONTIER
"In silence you hear who you are becoming. You create yourself."
-Jewel


WELCOME TO ALASKA: THE LAST FRONTIER
Alaska was a magical place. It mesmerized me in ways that I still can't comprehend while sitting on this American Airlines flight back to Los Angeles.
This was my final frontier, if you will. My 50th state visit. My incredible Star Trek-like voyage to the edge of the world.
Alaska reminded me of three places as I viewed it from above. Hawaii (island-like), Scotland (tons of greenery) and it's neighbor to the east, Vancouver (greenery and water all around). My 50th state visit was to the city of Anchorage, located on the Southern part of the state and rich with green vistas and lakes galore. Flying in to the city was beautiful.
Perhaps part of the magic of Alaska came from the first surprise which occurred before I even landed on the beautiful state. I don't even think of Alaska as a state by the way. It felt like an island to me. And the first surprise came when I saw a sunset in Los Angeles at 8pm and 5 hours later, over Anchorage, Alaska another sunset at midnight (Alaskan time, which is an hour behind California).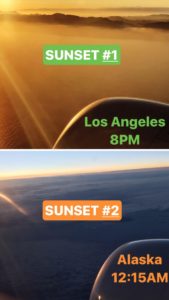 During a recent trip to my 49th state (Hawai'i), I made a new friend who surprisingly met me in Alaska for the icing to my ultimate American journey. Her name is Elisa.
Elisa is a wonderful treasure of a human being and loves to travel and explore as much as I do. She lives in Portland and we ended up spending 48 hours together and exploring the city of Anchorage.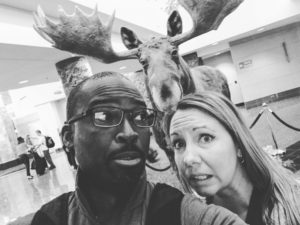 Among a few of the explorations?
The Sydney Laurence Theatre (check them out here) where we watched a 40-minute presentation with visual montages of the Aurora phenomenon ("The Northern Lights") that had been captured by Dave Parkhurst, an amazing Alaskan photographer, since 1981. Truly captivating.
Walking around downtown and sharing our similar views about how quaint the city of Anchorage was, like we had stepped through a time machine.
Kumagoro, a sushi place that turned out to be pretty good.
F Street Station, the oldest bar in Anchorage, where we enjoyed Grilled Halibut, Alaskan King Salmon and whiskey shots with our waitress (she was fun). Everything was freaking delicious and fresh!
And The Alaska Zoo, where we saw everything from Polar Bears to Porcupines to Bald Eagles to Yaks to Black and Brown Bears to Tigers to Owls and a big ass Moose. I had never seen a Moose up close and could not imagine accidentally hitting that thing with my Prius.
There was definitely one bizarre thing Elisa and I noticed while there and it was that we felt quite loopy and slow at times. Was it the zero elevation? The effects of the Aurora Northern Lights magic? The mysterious and magical nature of this Twin Peak-like area which, at the time we went (2nd thru 4th of July 2017), daylight stayed with us for 19 hours, 4 minutes and 47 seconds?
It was so hard to get used to daylight at 11 o'clock at night. It was downright weird and the curtains at the hotel had to be drawn in such a way that the sunrise didn't wake us up at 4am!
19 hours of daylight! Holy mackerel. That was quite the experience. Imagine going to work everyday this summer at 2pm, getting off at 10pm and it's ALWAYS daylight! We did manage to see a few black curtains through the windows of certain homes. I'm glad I got to experience it for sure but it totally weirded me out.
I'm so glad that I partook in this adventure to engage and learn so much about this great country and it's great lands. I hope others do the same and take road trips more often than they hibernate in their respective cities and states. Hawai'i and Alaska were definitely magical icings on the cake for me.
I think back to last summer when I started this journey through the first 48 and I think, "Wow, I did all that throughout the height of the 'Black Lives Matter movement'." Imagine, an African-American man drove through 48 United States and 3 Canadian counties and never experienced racism or violence from the police. I like to think it was the Prius (hahaha) because I mean, really, who is worried about a Negro in a Prius?
Or maybe it was my energy. I had certain rules about how I drove and why and where and I tried to stay as positive as I could. Good energy breeds a positive life.
This was a wonderful experience and I hope it inspires others to get off their butts and do the things they keep SAYING they're going to do. I talked about doing an American road trip for years and last summer, I told myself to shut the fuck up and just do it. I sat down, laid out a plan and made it happen.
The best part about all this? No matter who I meet who is US-born, I can say I have been to their home state. I have stories for every single state and I hope to blend my positive energy into the universe by sharing them with the world.
Get out there and live.
ANCHORAGE, ALASKA PHOTO GALLERY
WELCOME TO ALASKA VIDEO