Utah – Where my GPS went haywire…
"I used to want to be a movie star so I wouldn't have to live in trailers anymore. And now that I make movies, I spend a lot of my life living in trailers."
-Roseanne Barr

WELCOME TO UTAH: LIFE ELEVATED
After waking up with a wee bit of a stomach ache and spending an extra couple hours in bed, I took another few selfies in Las Vegas and jetted my way over to Saint George, Utah.
It was a pretty short drive. About 2 hours or so.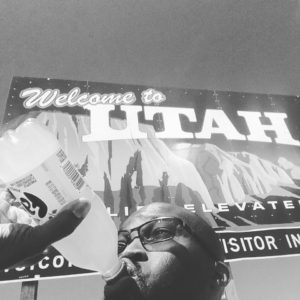 Although there's pretty much nothing to do in Utah (or maybe that's just what it seemed like from this small town), the state is amazingly beautiful. I enjoyed the cool rock formations and awesome scenery.
When the weather is anywhere close to manageable numbers, say, 70 or 80 degrees, I would love to visit both Arizona and Utah and explore more of their beautiful terrain.
While in Saint George, I stopped by a Ross Dress for Less and bought some slippers because I didn't want my feet sitting in my shoes while the temperature did jumping jacks between 99 and 106 degrees. Boy, it was hot!
I must say, I saw probably one of the most beautiful women I've seen so far on my trip in Utah. She was in an El Pollo Loco with her husband and three kids. Jesus Heavenly Father, she was hot. Just like the weather.
It made me want to explore different parts of the state to observe the hotness meter for Utah-ian women.
But alas, I didn't have the time and zoomed on over to Grand Canyon National Park in Arizona (which by the way had some hotties as well).
Oh, one last thing … when driving through and exploring either Utah or Arizona, make sure you keep a paper copy of any directions you may need. An old school navigational map is not a bad idea either. My Waze app starting acting a fool and didn't know where the heck I was. Maybe aliens were in the area interfering with my cell phone?