Shiprock New Mexico! Sounds like Shitrock.
"I have always been a fan of that immersive theatre idea that there is some kind of puzzle unfolding, and that things are happening around you without you knowing it."
-Neil Patrick Harris
WELCOME TO NEW MEXICO: THE LAND OF ENCHANTMENT
So, while leaving the state of Arizona, which seemed like FOR…EVER, it started raining hail drops and I could see lightning activity to my right. I called them hail drops because they looked like 4 times the size of regular raindrops.
Let's get things straight very quickly. I was scared. Very scared. But not because of lightning. Mainly because the films of water on the freeway just seemed like hyrdoplaning disasters waiting to happen. I only felt my car hydroplane once, very briefly, so I virtually patted myself on the back for remembering the rules for driving in the rain: SLOW DOWN and DON'T SWERVE ALL OVER THE PLACE! (these are the kinds of things you learn growing up in Philly)
Check it out.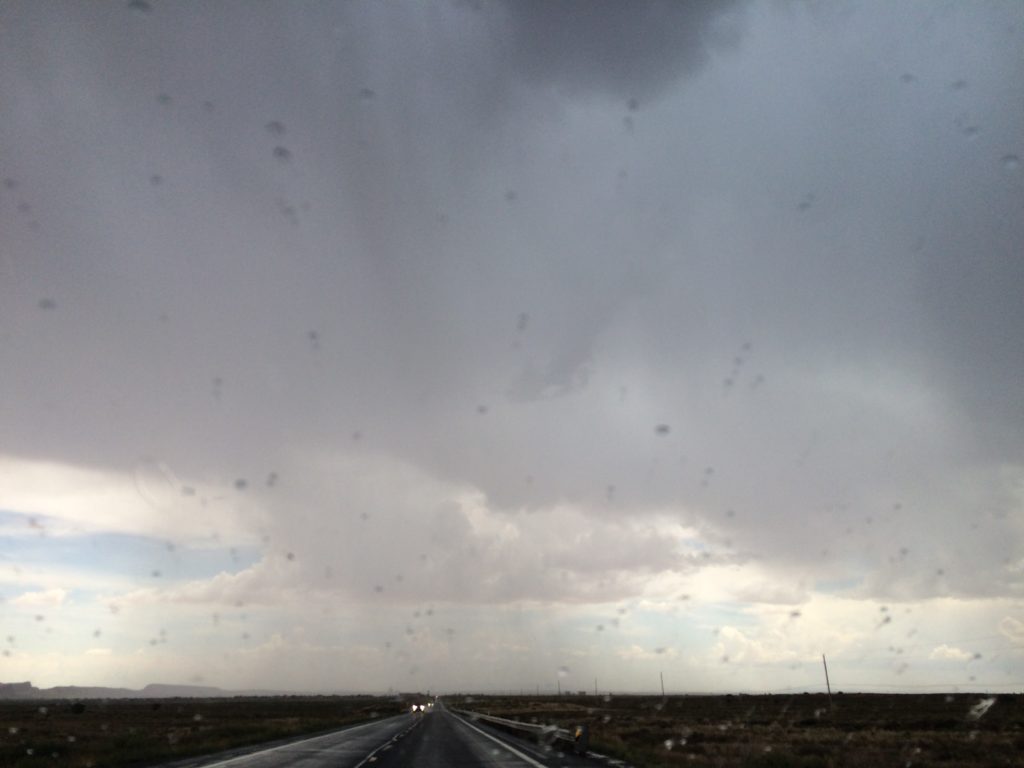 After finally arriving in Shiprock, New Mexico, I spoke to a Navajo man who told me about the "four corners" I had missed the opportunity to experience 30 miles back. Basically, there was a nice piece of land I could stand on and be in 4 different states at the same time (New Mexico, Arizona, Utah and Colorado). I was not about to drive back 30 miles when I had a 7-hour trek ahead of me to Denver. Just the thought of it at the time made me want to fly home (to California) and go to sleep.
But alas! I stayed.
And as a result, I noticed that New Mexico, like Arizona and Utah, had some sweet rock formations as well.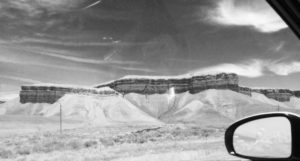 Many of these particular rock formations looked a lot alike. I don't think Mother Nature gets enough credit sometimes for the things she manages to do.
I included a picture of a rock formation here and applied the NOIR filter for extra added creepiness. Click on it to see a bigger version.
In conclusion (maybe), Shiprock, New Mexico seems to be home to Natives who love two things: jewelry and KFC. I saw a few jewelry stands and their sellers on the side of the road and noticed two KFCs in town, one of which, I decided to pop into and have some lunch.
BAD IDEA!
If you ever go, don't eat there. For the next 7 hours, my stomach kept asking me if I was going to end up like Harry in Dumb and Dumber.
I didn't but man, I was worried about it for too long.
Thanks a lot New Mexico!
Until next time?
By the way, what's that BIG POINTY LOOKING ROCK THING in the distance?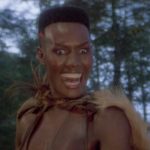 Upon closer inspection, it looked like the castle from Conan The Destroyer.