"I'm very proud to be black, but black is not all I am. That's my cultural historical background, my genetic makeup, but it's not all of who I am nor is it the basis from which I answer every question."
-Denzel Washington


I first moved to New York in 1986. After growing up in the Caribbean, it was the first major city I ever visited. And I remember her very well. She was big, busy, beautiful and smelled like piss. Not sure who came up with "The Big Apple". The apples I ate never smelled like piss.
I still don't know why but my parents never took us to any major New York attractions. My best guess is because my dad hates "crowds" and "spectacles". Unlike me, the entertainer in the family, who doesn't mind them at all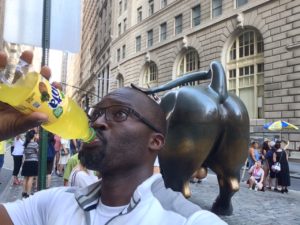 . My dad also hates going to the movies. The closest we ever got to a crowded activity was attending a Yankee game in the Bronx.
Class trips during my two years in New York consisted of visiting apple orchards in upstate New York. Maybe that's why I'm not that into apples. I ate my fair share when I was 11 and 12 years old.
Two years living in New York and many years of visits but still, never saw the Empire State Building, World Trade Center or the Statue of Liberty up close.
Being an immigrant, I was always fascinated by the Statue of Liberty: the gateway to the new world. I finally purchased my tickets, asked my friend to go with me and had a wonderful time hanging with Lady Liberty.
It's a crazy process to get to her. The ferry that sails over to her left from Battery Park. I stayed at a Holiday Inn in the financial district, which was an easy 15 minute walk to the ferry dock. It's no joke once you get to the dock. If you ever go, be prepared for really long lines with airport-like security. There was even a sign that said there would be "airport-like security". Hey, at least they warned us.
It was hot too. Really hot! Mid 90s. The kind of heat that makes you wear big ass hats and not think about your outward appearance.
After security, you stand on a dock and board one of the ferries that takes you to Lady Liberty. Once that thing leaves, it's a great ride and your 360-degree view is The Big Pissy Apple. It was great.

Once on the island, my friend and I grabbed a device that provided an "audio tour" but it was useless.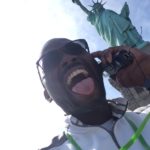 We learned nothing, there were no headphones and you were better off googling what you wanted to know or reading information posted around the island. You literally had to hold this thing up to your ear.
Quite honestly, Lady Liberty was beautiful and majestic but if not for her history, I actually thought it was a waste. Yeah, I know, imagine… for a long time I wanted to see something marvelous and when I finally did, the climax was mediocre.
People watching was more interesting. I wanted someone to drop their iPhone in the river so bad. It never happened but hey a guy can dream.
On the way back, the ferry did a mandatory stop at Ellis Island, which I had no interest in. Eventually, passengers filled the boat and we went back to Battery Park.
So yeah. The Statue of Liberty was anti-climactic but the day was beautiful, the views were great, the sweet sausage hot dog I ate on the ferry was delicious and I had a great time hanging with my buddy Marylou. Have a nice day.