Say Cheese! It's Wisconsin.
WELCOME TO WISCONSIN: THE BADGER STATE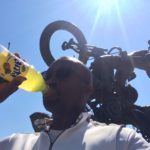 Before ever stepping one foot in Milwaukee, I knew a few things about the state of Wisconsin.
They were in the Big Ten (I attended Penn State University, which is also in the Big Ten).
They loved cheese (according to the internet, their cheese loving days span over 180 years). That's a long time to be invested in some damn cheese, Wisconsin.
Ron Dayne, an amazing running back, attended the University of Wisconsin-Madison, where he played for the Wisconsin Badgers football team from 1996 to 1999. He was known as the "Great Dayne" and "The Dayne Train" throughout college and was the starting running back all four years at Wisconsin. He wasn't a flashy or boisterous player, more like a workman-like back who was expected to carry the ball as much as necessary (think Jerome Bettis). He had 1,220 carries during his career. I paid close attention to Dayne because my alma mater, Penn State, was also in the Big Ten and we had to go up against this freight train. I attended Penn State from 1993 to 1998.
Here's what I didn't know. The Harley Davidson Museum is in Milwaukee, Wisconsin. I had to check it out. What a great place. If you are ever in town, do yourself a favor and go say hi.
I would like to leave you with a great quote from one of my favorite actors, who was born in Wisconsin.
Mark Ruffalo.

"I don't like this idea of Method. I come from that school, but what I was taught was that it's your imagination. You do your homework, and you use your imagination. People use the Method as a shield; it shields them from being vulnerable. I hear all these young actors who are like, 'I'm Method, I'm gonna go live in the house, you know, I totally get it, I've done it, I've been there', but one thing I know is it kills spontaneity.
They'll still give great performances, but they're not playing with the other actors – it's all about them. And spontaneity and vulnerability are gold on screen and on stage – they are the fucking magic.
When Brando reaches down and picks up that glove and puts it on his hand, that is magic. You can't plan that." (He is referring to a scene in On the Waterfront (1954): Eva Marie Saint accidentally dropped a glove on set and, rather than wait for another take, Marlon Brando picked it up and put it on, without missing a line.)