The United States of Texas
"I've found that every time you stand up for something and open your mouth, you alienate someone. I spent a lot of time wanting to become rich and famous, then when I got there, I found it was hollow. What is important to me is my connection with family and friends, and to nature, and to stand up for what I believe in. It really makes you feel good to follow through with your convictions. Granted, between opening my mouth and some of the movies I've chosen to do, I've alienated a lot of my fans, I'm sure. Hopefully I'll make better movies, but I'll never stop opening my large, prominent mouth."
-Woody Harrelson
For many years, I've heard Texas referred to as: The United States of Texas. I guess their culture exhibits the kind of confident mentality that makes Texans think they can be their own country. It's definitely in the air. Texas is different. It looks different. Feels different. Tastes different. The people are different. They love their guns, their burgers and their hometown.
On our way to the city of Dallas from Oklahoma, Patrick gave me history lessons on everything from buildings to butterflies to burgers to skylines to cows to real estate (butterflies is a minor embellishment). I kept thinking, damn, these folks are really proud of where they come from. You have to respect that on a certain level. I mean, why wouldn't you be proud of where you came from?
My only regret during my visit was not trying this place called, "WHATABURGER".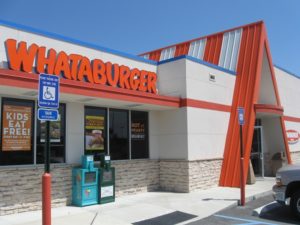 From what I've heard from different Texan natives, it is probably THEE best burger place ever opened. Of course it is. They say the same about In N Out burgers in California and Philly cheesesteaks in Philadelphia. "Oh my god, these are the best. You have to try one."
Okay, Kemosabe. I got it.
Honestly, over the past few years, I've removed burgers from my diet. Not completely! I love burgers but try to only eat them once a month. I stay closer to Turkey Burgers. Burgers are great every now and again but having them as a steady part of my diet as I get older is not smart. Still, I should have eaten at least ONE on this trip. Next time.
Patrick had booked me a guest spot on a comedy show at a Caribbean restaurant called, "TASTE OF THE ISLANDS" in Plano, Texas. It was a pretty big establishment. Bar. Restaurant. Dance floor. I liked it.
Before performing, I had the chicken roti and a Vita Malt. I felt like I was back home in the Caribbean again. The food was delicious and our bartender, Bryttnie, was courteous, hospitable and exotically attractive. That's a nice Texas combo.
Patrick killed during his comedy set. I had not seen him perform in person in probably 4 or 5 years. Man, it was nice watching him stand there and slice through his material. Even if the crowd was mediocre. It didn't matter and as a comic, it shouldn't. It's our job to find the pulse of the room and deliver. I had a good set. It's always cool doing comedy in a totally different place and trying to see if your material works there. Good times.
Moving on, I was thinking of giving a shout out to the Holiday Inn I stayed at in Cockrell, Texas but the bathroom smelled like sewage. The rest of the room was great but I kept that bathroom door closed. I was only there for one night, thankfully. And what else would you expect from a hotel located in a city with "Cock" in the name?
---
SIDE NOTE:
Dallas has one of the most beautiful skylines in all of America. If you are ever in Dallas, stay the night and head into the city. Minus all the annoying construction, it's a beautiful sight.
---
On my way to Louisiana, I met two ladies at the Louisiana Welcome Center (just outside the border of Texas): Christi and Tina. Texans. They both possessed sincere southern hospitality to go with their beautiful southern hearts. They offered to take a picture of me in front of the Louisiana sign but I had to refuse so I could take my selfie the way I had done it for the past 8 states.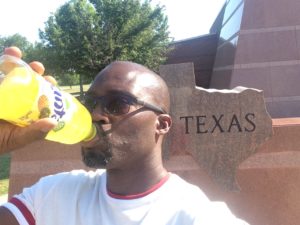 Of course, I took the opportunity to tell them about my journey and they were immediately interested and wished me safe travels. I gave them some business cards and within an hour (while I was on the freeway), I received a Facebook friend request from Christi.
We had some fun Facebook messaging each other and then the Universe took over. They stopped at a Cracker Barrel and wouldn't you know it, Tina found a Fanta shirt in Alexandria (between the Louisiana Welcome Center and Baton Rouge) and insisted I had to have it.
11 MILES LATER…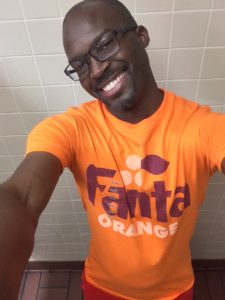 Big thanks to Christi and Tina.
That's not all. I asked them, why the hell they would go to a Cracker Barrel in the middle of nowhere on purpose and as it turns out, Tina was picking up the cutest white chow dog of them all. I had a chance to play with him for a short time. Check out "Samson".
By the way, don't google "white chow dog" … you'll be in a rabbit hole for quite some time.
Bye Dallas. Thanks for such a good stay in a short amount of time.
---
By the next time I come to Dallas, perhaps they will be their own country?
#TEXIT
---