Delaware. Endless Discoveries.
[on acting]
"The darker, more complex and emotional the part is, the easier it is for me. But I don't take any of that stuff home with me at the end of the day."
-Elisabeth Shue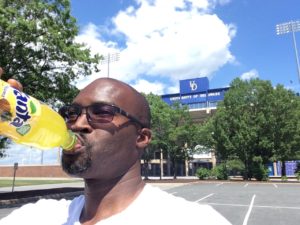 I did not stay long in Delaware so there's not much to talk about. It's a beautiful state and you don't have to pay sales taxes on most retail items. Growing up, I always thought that was a joke but it wasn't. And THAT aspect of Delaware, I do like very much.
Besides that, it doesn't seem like there's anything else going on in Delaware. Oh wait … it's a good place to set up a business but yeah, that's it. If there's more, let me know. No one ever RAVES about Delaware. It's just kind of — there — in the wind. No one ever goes, "Dude, you gotta go to Delaware and check out ____!", like they would about Las Vegas, New York or New Orleans.
With that being said, here's an interesting list I've compiled throughout my trip that I think is fun.
Hope you enjoy it.
SO FAR MY…
Favorite States:
Colorado
Texas
Louisiana
North Carolina
Favorite Cities:
Las Vegas, NV
Denver, CO
New Orleans, LA
Favorite Places To Eat:
Akira Sushi in New Orleans, LA
Waffle House in Biloxi, Mississippi
Bojangles in Charlotte, North Carolina
Favorite Party Stop:
Favorite Comedy Club:
Comedy Works in Denver, CO
Cheapest Gas:
Scariest Drives:
Leaving New Mexico and heading into the mountains of Colorado after sunset with a lightning storm looming in the distance
Crossing the West Virginia-Virginia border at 1:30am JUST to get my selfie
Creepiest Drive:
Back roads of Alabama (I swear you could feel the racism swaying from the branches.)
Coolest Sights:
Edward Pettus Bridge in Selma, Alabama
The White House
The Linq Wheel in Las Vegas
The back roads of Tennessee and Arkansas (beautiful trees)
Most Asked Questions About My Trip:
What's up with the Fanta?
Where's the dinosaur?
Where are you??
Longest Drive:
Louisiana to Mississippi to Florida to Alabama to Georgia to Tennessee (~11 hours).