"I don't have to work. I could stop and never have to worry about paying the rent. I'm working for the joy of doing it."
"If you live a life of make-believe, your life isn't worth anything until you do something that does challenge your reality. And to me, sailing the open ocean is a real challenge, because it's life or death."
"Stillness. It's what I learn from the actors I work with. That's all, and that's the hardest thing."
-Morgan Freeman
An old friend from Penn State University in my college days was from Chattanooga, Tennessee. Gamaliel Young. This dude was super smart. Engineering major. Competitive as hell. He carried a 3.8 GPA his entire college career. Impressive.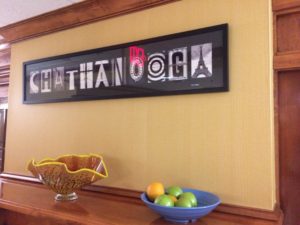 Chattanooga served as a great breather for me after having been through 5 states (Louisiana, Mississippi, Florida, Alabama and Georgia). I stayed at my usual Holiday Inn Express & Suites and this one was located in the Lookout Mountain area.
Lookout Mountain is a mountain ridge located at the northwest corner of the U.S. state of Georgia, the northeast corner of Alabama, and along the southern border of Tennessee at Chattanooga. Lookout Mountain was the scene of the "Last Battle of the Cherokees" during the Nickajack Expedition, which took place in the 18th century, as well as the November 24, 1863 Battle of Lookout Mountain during the American Civil War.

(Reference: https://en.wikipedia.org/wiki/Lookout_Mountain)
I don't have much to say about Chattanooga since I only spent the night there but if you are ever in this city, visit the following sites: Ruby Falls, Lookout Mountain, Tennessee Aquarium, The Walnut Street Bridge and Tennessee Riverpark.
Chattanooga, Tennessee is a beautiful city even if you're just passing through. There's plenty of eye candy to see, including lakes, rivers, waterfalls and mountains.
Peace out Gamaliel!
[gss ids="565,562,564,563″ carousel="fx=carousel"]