"Every day, you have to be better than one person. And what is required each day is always different."
-Andre Agassi

WELCOME TO LAS VEGAS: SIN CITY BABY!
It seemed like it took forever to get out of Los Angeles this past Friday but I finally made it to one of my favorite cities in the world: Las Vegas.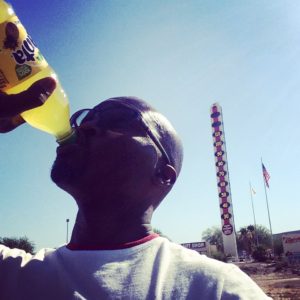 My drive took about 5.5 hours. It usually takes anywhere from 3.5 to 4.5 hours depending on how fast you drive (or speed) but I made a couple stops along the way to soak in the ride. One of those stops was Baker, CA, which was beautifully nicknamed, "Gateway to Death Valley".
It was 113 degrees while I was there and boy, could you feel it. The heat literally slaps you in the face and back into your car.
I always like to stop in Baker because it is home to probably one of the largest digital vertical thermometers in the US. The top of the thermometer read "134" but it was not illuminated. 113 was. Thank goodness!
You know it's hot when you see scorpions walking around with umbrellas.
Las Vegas was amazing as usual. Friday night, I managed to talk my way past the ridiculous line at Drais nightclub in The Cromwell and watch Nelly perform live. He was actually pretty good.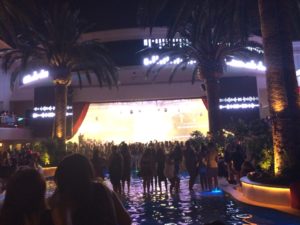 Saturday evening, I rode The Linq Wheel (aka The High Roller). That thing was amazing. I managed to buy a ticket online for $47 (if you buy it using your smartphone, you get a discount) and it included an open bar, which was a nice pre-game warmup before going out later that night.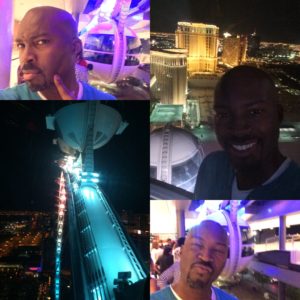 To end my Las Vegas trip, I spent Sunday at Red Rock Resort & Casino soaking up some sun in a Cabana that was rented out by a friend of mine. The pool was great as well. It's the best thing you can jump into when the temperature outside is 103 degrees.
And finally, my friends Tracy, Marcus and myself rounded out the evening by playing a few games of bowling. As it turns out, Red Rock also had a bowling alley within their facility.
I have to say… it is very dangerous to start a cross country trip in Vegas. I will never do this again. Las Vegas is so much fun that it should've been my last stop. And my friends love to drink so I needed to be careful because I have 47 other stops to make and it wouldn't have been cool if I couldn't wake up and take my butt to my next stop — Utah!
See you there.