One of my favorite actresses was born in Lincoln, Nebraska. Her name is Hilary Swank. I'm sure you've heard of her. Million Dollar Baby. Boys Don't Cry. Insomnia. The Next Karate Kid. If you study her career, you will immediately notice that she thinks and works outside of the box. That's what I love about her and it's also why the following quote from her resonates with my ultimate road trip.
"You can change your fate. You can sit back, or you can go after your life and all that you want it to be."
WELCOME TO NEBRASKA: … THE GOOD LIFE
The city of Omaha was pretty chill when I got there. It was a Sunday evening and the place was quiet and empty but beautiful. Great skyline. I only spent one night there. I stayed at The Holiday Inn Omaha – Downtown Airport hotel, which was located in the middle of the city and an 8-minute walk to TD Ameritrade (Baseball) Park Omaha.
Throughout my six weeks of traveling, I only stayed at Holiday Inn properties and I would say this was in the top 3. Everyone was accommodating and friendly. The receptionist gave me a free upgrade to a King Executive Suite, which was great! In addition, their restaurant and bar area was wonderful. I received a voucher for a free drink so after checking in, I went downstairs and had a glass of wine.
This hotel also had a 10,000 sq. ft. Water Park with a 3-Story Water Slide & Splash Zone. I'm assuming this was for the kids but if I had time, I would've been in there going loco!
Before I get out of here, I'll leave you with a view from my hotel in Omaha.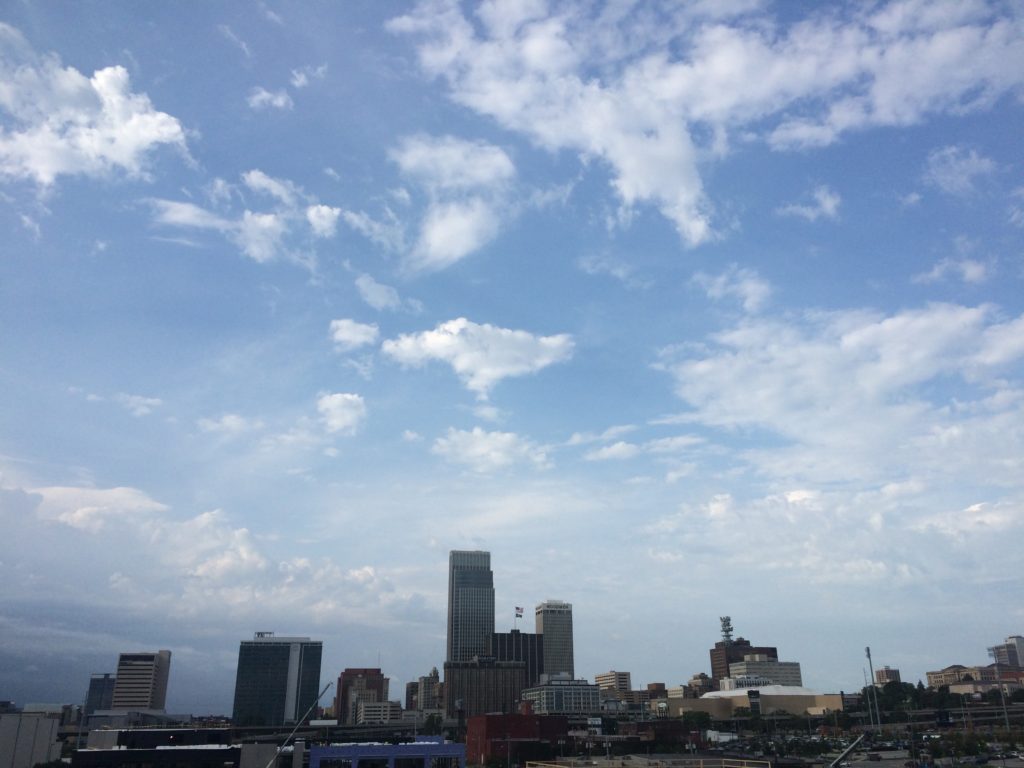 If you take a look at the sky, you will see that it was set up to be a very beautiful day. I was extremely thankful for this because of the drive I had coming up. My next stop was Mount Rushmore in Hill City, South Dakota. During my drive, there was a huge storm moving to the Northeast and I was going West. I dodged a huge bullet there. Phew!