Florida. The Sunshine State.
Florida. The Sunshine State.
[his advice to aspiring actors]
"They should be very versatile. Versatility is what's going to give them the longevity. The world is opening up and a lot more stories and a lot more interesting scenes to portray in film. Versatility will help them. They must be able to see the world, learn the world, and bring it to their craft."
-Wesley Snipes
Florida is a great state. A big one as well. It has many interesting cities and endless activities you can do once you arrive there. Among them:
Attending Spring Break in Panama City Beach
Hanging out on the coast of Pensacola
Watching a sports team in Jacksonville
Having fun at a theme park in Orlando
Sun-bathing in South Beach
Golfing
Cruises
Quick flights to the Caribbean, Mexico and Dominican Republic.
It's a wonder that Florida is called: The Sunshine State.
It's too bad that on this trip, I could not take advantage of her beautiful amenities. I've visited Florida many times in the past so I didn't feel too bad.
I literally tagged the state of Florida for a few minutes and then headed to my next stop: Alabama. Typically, from what I have seen so far, there is a Welcome Center for every state once you cross the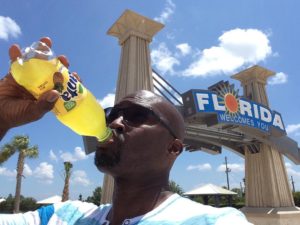 state line.
That's where I headed once I arrived in Florida. Consequently, I took my Fanta selfie at the "Welcome" sign and then left immediately.
A friend of mine from New Orleans suggested visiting Pensacola, FL because of a beautiful lighthouse that existed on the coastline but in the interest of time, I needed to head North as quickly as possible. So Pensacola was off the list.
Just in case you were wondering about the swiftness for this particular part of the trip, I had a rule that I wouldn't drive at night. Perhaps one or two hours after sunset but never too late at night. Too many unknowns in places I had never been. It's a rule that has worked pretty cool so far (except Grand Canyon National Park) but in that case, I didn't know the park was one way in and one way out.
For this blog, instead of writing about Florida, I created a top 10 list of things that have helped me to stay focused, awake and healthy while embarking on this 48-state journey.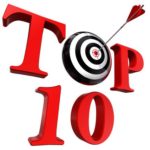 10. Stay hydrated and drink lots of water.
09. Always buy gas with the Discover card so I can get cash back points.
08. Always keep fresh fruits in the car (bananas, apples, oranges, grapefruit).
07. Get a massage at least once a week.
06. Always keep a cup of ice in the car.
05. Travel with a cooler that can keep certain items cold and others warm.
04. Stay in the moment.
03. Get a good night's rest.
02. Stretch everyday.
01. Drink lots of water.
---
Florida. Don't worry. We'll see each other again very soon.
---