Alice in Chains. Yes, please.
Alice in Chains. Yes, please.
"There are times you can't really see or even feel how sweet life can be. Hopefully its mountains will be higher than its valleys are deep. I know things that are broken can be fixed. Take the punch if you have to, hit the canvas and then get up again. Life is worth it."
-Queen Latifah (Dana Owens)


Atlantic City, New Jersey was surprisingly fun. I always make jokes about Atlantic City being the fake Las Vegas but I had a helluva time.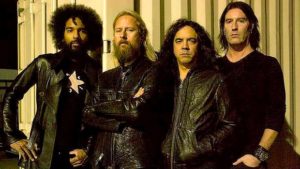 That probably had something to do with my buddy, Dean Delray. Dean was in town performing with the rock band, Alice in Chains, doing 20 minutes of comedy before the start of their rock concert at The Trump Taj Majal. How freaking cool!
It's an epic opportunity for him to be touring with them this summer. And a wonderful coincidence that New Jersey was the next state on my ultimate road trip checklist.
Can you believe it? First off, I got to hang with my buddy, Dean. Again. I saw him a few weeks ago in Denver and we did comedy together at Comedy Works. Secondly, I met Alice in Chains, a great rock group and even better group of people (they love golf as much as I do). And finally, I knocked another item off the bucket list by seeing them perform, which was my first time seeing a rock concert LIVE. It's hard to believe that but it's true. From beginning to end.
As if that wasn't epic enough, I hung out backstage with everyone, ate some great food and stayed at the Trump Taj Mahal for the night in a killer suite. Thanks again Dean. You rock dude.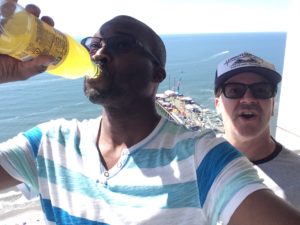 Check out the view.